Greetings from Tenwek,
The past few years has taught us all how unpredictable life can be. As I continue work at Tenwek, tragedy is part of life. This may be through the loss of a patient or loss and struggles with colleagues. However, through this community I also have hope. Last week it was a young patient who was struggling to breathe. This young one has been through a lot – even going home with a tracheostomy tube for a few months. She had been doing well until pneumonia hit her. It was hard seeing her tired body struggling to breathe and wondering if we needed to go through the challenge of placing a tube in her airway again. I remembered that the weekend before I had put some pieces together for a Heated High Flow Nasal Canulla – something that has become quite routine in North American medicine but is never done here. I had spent some time playing with pieces in my office and had made it in hopes it would help a young patient post heart surgery. Unfortunately, the cardiac patient passed on, but I had the parts mostly ready to go. I had to scrounge for a few more pieces but was able to get this young child on the setup fairly quickly. Within moments of oxygen being delivered this way, the child's breathing became easier. Over the course of the day she needed less oxygen and the next day she was more awake and interactive. I am so thankful that this worked and now she is back on normal oxygen and hopefully will go home soon. When despite our best efforts and interventions and work we lose patients, I am encouraged when interventions are successful, and it is a good reminder of why I and others are here.
God also encourages me through community. Last week I had my friends Marvin and Mourine over for dinner. I have know Mourine since she was an intern at Tenwek in 2013. She married Marvin and together they completed residency at Tenwek – Mourine in Family Medicine and Marvin in Orthopedics. They have been a wonderful light to our community. As we visited, they shared about their recent trip to a hospital in Northern Kenya. They shared about the hospital there where the women and children were inside and the men's ward was outside with IV bottles hung from the tree branches. They shared a tragic story of a mom walking hours to the hospital to deliver overnight. Due to complications and lack of staffing, the babe passed away. In the morning the mom, carrying her heavy burden, walked home…alone. In sharing these stories you may wonder how we were encouraged. We were able to share each other's burdens, share the loss, and lift our heavy hearts to the Lord. There is also hope as Marvin and Mourine hope to move to this hospital next year to provide medical care and evangelism to this community. One of the desires I and others in missionary community at Tenwek hold is to encourage Kenyans to do missions, and to see that come to fruition is exciting. They have joined the same organization I am with  – Into All the World – and are raising funds for projects at this hospital. If you want to give to support this ministry, go to www.IATW.ca, select "donate", and select "Marvin & Mourine" in the drop-down menu.
For over a year, I have been working a modified schedule taking Tuesday and Wednesday as my weekend. This past week I was really convicted to ensure that I also have time to rest and sabbath. Sometimes when taking atypical days off people forget and the phone rings and meetings are scheduled and so on. So learning to set boundaries, turn off the phone and spend the day resting, going to virtual church and allowing God to encourage me on those days is now a priority. I was thankful for this reminder week and plan to continue to try and protect my Sabbath time with the Lord. I am also thankful that work on Sunday has me in church running the AV allowing me to worship although I am often distracted.
I am also encouraged through each of you. Through prayer and financial support you each hold me and others at Tenwek up. Your financial support in 2021 allowed me to purchase equipment for Tenwek, travel to other hospitals to provide education, provide meals at weekly Bible study, renovate our ICU to allow for critical care training, and so much more. THANK YOU. I am amazed that every time I become hesitant about spending some of the raised funds, I am pushed by the Lord to spend and the following month I see that a gift has kept my balance where it was. As missionaries we call this God's economy – thank you for being a part of it.
Thank You for your continued prayer and support.
God Bless
Annette Lievaart
Marvin & Mourine & Me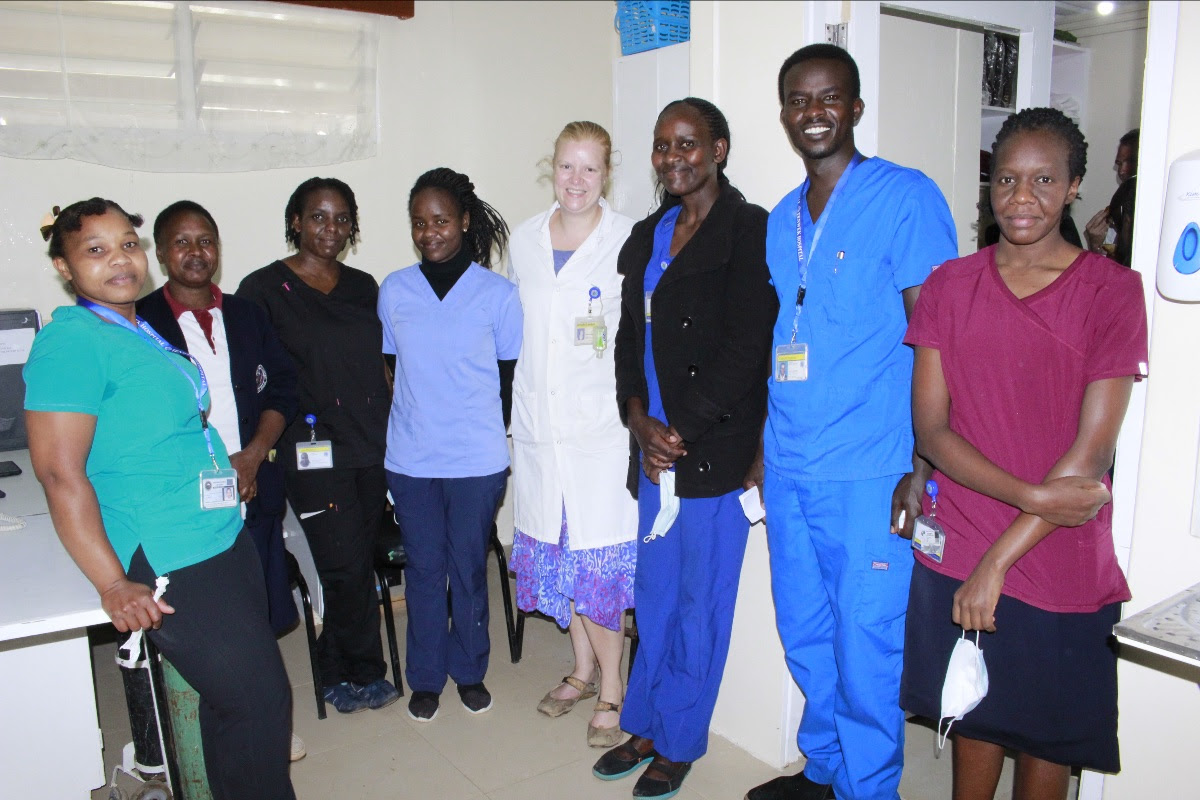 Some of the great ICU nurses at the dedication for our renovated ICU
Tenwek Missionary team all got together for fun, games and ice cream.